GREASE RED HIGH-TEMP EP-2
Product:
GREASE RED HIGH-TEMP EP-2
Manufacture Product Code
Packaging Type
Price
GRREP-400
400 LB DRUM
$695.00
GRREP-120
120 LB KEG
$292.00
GRREP-35
35-LB Pail
$97.00
HIGH PERFORMANCE EXTREME PRESSURE MULTIPURPOSE GREASE
HIGH TEMP RED GREASE is for hot running equipment, and high temperature applications.
High Temperature Grease also provides superior rust, oxidation and corrosion resistance.
High Temperature Grease products are ideal for demanding applications We stock variety of High Temperature Grease and Lubricants for different applications.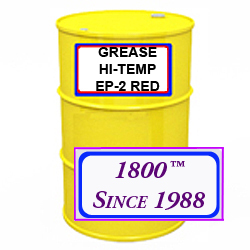 TO ORDER EMAIL or CALL (786) 622-2060