SYNTHETIC BLEND MOTOR OIL 5W20
Product:
SYNTHETIC BLEND MOTOR OIL 5W20
Manufacture Product Code
Packaging Type
Price
SB520-D
55-Gallon Drum
$584.50
SB520-P
5-Gallon Pail
$62.25
SYNTHETIC BLEND MOTOR OIL SAE 5W20
ALL SEASON HEAVY DUTY MULTI-VISCOSITY MOTOR OIL
HD MULTI-VIS MOTOR OILS are highly refined paraffinic base oils compounded to exacting specifications. They have a natural high viscosity index and a highly superior additive package that protects against rust, corrosion, oxidation and wear of moving parts. A detergent dispersant provides control of sludge and varnish.
PROPERTIES AND BENEFITS:
1. Maximum protection for extreme weather starting and driving conditions;
2. Excellent lubricity at both high and low temperatures;
3. Does not break down in stop and go driving;
4. Help reduce oil consumption;
5. Protection against foaming, rust and oxidation in the crankcase;
6. Dispersant additive keeps harmful dirt particles suspended in oil.
APPLICATIONS:
HEAVY DUTY MULTI-VIS MOTOR OILS are recommended for U.S., European and Japanese cars and light duty trucks for diesel and gasoline engines.
HEAVY DUTY MULTI-VIS MOTOR OILS meet and/or exceed the manufacturer's requirements API SN,SM, SL, SJ, SH, ILSAG, GF-2, GF-3,GF-4.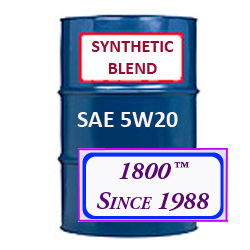 TO ORDER EMAIL or CALL (786) 622-2060