80W140 SYNTHETIC GEAR OIL
Product:
80W140 SYNTHETIC GEAR OIL
Manufacture Product Code
Packaging Type
Price
80140S-55
55-Gallon Drum
$941.75
80140S-16
16-Gallon Pail
$310.80
80140S-5
5-Gallon Pail
$101.75
SAE 80w-140 HEAVY DUTY SYNTHETIC GEAR OIL

1800 BRAND HEAVY DUTY SYNTHETIC EP 75W-90 and SYNTHETIC EP 80W-140 GEAR OILS are 100% Synthetic extreme pressure GL5 gear lubricants that are compounded with synthetic base-stock fluids.
These lubricants contain extreme pressure additives, as well as rust, oxidation and corrosion inhibitor to protect gears, and bearing operating under a wide variety of load conditions.
The high and low temperature performance of these products exceeds those of conventional gear lubricants.

HEAVY DUTY SYNTHETIC EP 75W90 and SYNTHETIC EP 80W140 GEAR OILS
MEET OR EXCEEDS ALL PERFORMANCE REQUIREMENTS FOR:

1. Extended warranty coverage at Eaton; Eaton Axle Division PS –037;
2. Meet API GL 5;
3. Rockwell INT-0-76-E (75W-90), 0-76-B (80W-140);
4. Mack Truck GL-H/S;
5. General Electric D5OE9C;
6. Harnischfeger (P & H) 474;
7. Axle Division Dana Corp;
8. PG-1, PG-2 Performance Standards;
9. MIL-L-2105D, US Steel 224 Demulsibility;
10. AGMA 250.03 Demulsibility.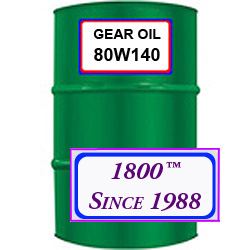 TO ORDER EMAIL or CALL (786) 622-2060